Get Quote-
Toyota LandCruiser 79 Series Dual Cab GXLHome
---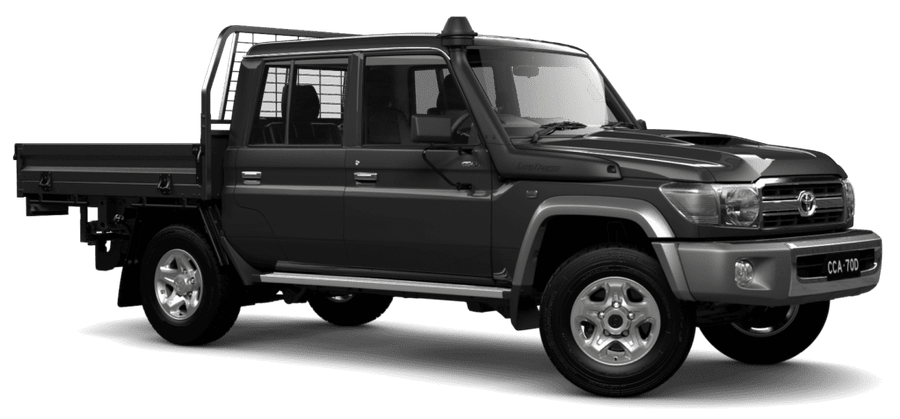 Toyota LandCruiser 79 Series Dual Cab GXL Specification & Rate
---
Specifications:
 
Model
:
Brand New Toyota LandCruiser 79 Series Dual Cab GXL
Seating Capacity
:
5 Seater
Fuel Type
:
Diesel
Auto/Manual
:
Manual
LandCruiser Rental Rates:
| | | |
| --- | --- | --- |
| Rate 1 | : | $220 per day incl 10 % GST + 200 Kms/day allowance based on a daily rate |
| Rate 2 | : | $880 per week including 10 % GST + *1000 Kms/week allowance based on minimum 1 months contract |
Choosing the Right Toyota Landcruiser Hire Melbourne
This is important to look for when you are browsing van rentals in Melbourne. You will find many car rental companies but look for those who are offering van rentals. These rental agencies are equipped with a fleet of various vans to choose from. Also; they'll guide you on picking the right van rental determining your itinerary plans.
Compare van rental packages
When you choose to hire Toyota Landcruiser Hire Melbourne, make sure to understand everything that is included and which isn't. Calling every rental company won't give the right idea of the rental prices. Also; see what kind of insurance it comes inclusive with. Does it require any special equipment, if so, how much is the cost?
Australia's big city Melbourne boasts of having a huge variety of fleet of vehicles assuring that it is suitable in terms of budget and traveling requirements for everyone. Whether you are renting van Melbourne for an adventurous ride or here with the team on a business trip, Toyota Landcruiser on Rent Melbourne can be the best solution. The van comes equipped with the latest built-in feature to provide you comfortable traveling. It is no surprise; van rentals are the most preferred mode of transportation for long-distance travel in Melbourne. If you are looking at something value for money, comfort and pleasurable traveling, look no further book your next travel with van hire Melbourne.
Hire the Stunning Toyota LandCruiser Dual Cab in Melbourne Today
Melbourne Van Rentals proudly introduces the exceptional Toyota LandCruiser Dual Cab for rent. Our commitment to providing quality vehicles at unbeatable prices makes us the ideal choice for your next rental experience.
Affordable Luxury with Melbourne Van Rentals
At Melbourne Van Rentals, we believe that premium vehicles should be accessible to everyone. That's why we're excited to offer the Toyota LandCruiser Dual Cab at the cheapest price in Melbourne. We strive to make luxury affordable, and our competitive pricing reflects this dedication.
The Charm and Elegance of the Toyota LandCruiser Dual Cab
The Toyota LandCruiser Dual Cab is not just a vehicle; it's a statement. From its sleek exterior to its plush interiors, every inch of this car spells sophistication. With comfortable seating and ample cargo space, the LandCruiser Dual Cab is as practical as it is beautiful. It's no wonder that it's one of the most sought-after vehicles on our fleet.
Top-of-the-line Specifications
What makes the Toyota LandCruiser Dual Cab stand out from the crowd? It's the impressive specs that it comes with. Boasting a powerful engine, superior off-road capabilities, and state-of-the-art safety features, this vehicle is designed to deliver a smooth, secure, and comfortable driving experience.
Cheapest Chauffeured Toyota LandCruiser Hire in Melbourne
Looking for a chauffeur-driven experience? Look no further! Our Toyota LandCruiser Hire in Melbourne now comes with the option of a professional chauffeur. Enjoy the luxury of a premium vehicle without the stress of driving. And the best part? We offer this service at the most competitive rates in Melbourne.
FAQ
Q: What is the rental process for the Toyota LandCruiser Dual Cab?
A: Simply visit our website, choose the Toyota LandCruiser Dual Cab from our fleet, select your dates, and complete the booking process. It's as easy as that!
Q: Is the Toyota LandCruiser Dual Cab suitable for long trips?
A: Absolutely! With its powerful engine and comfortable interiors, the LandCruiser is perfect for both short trips and long journeys.
Q: How affordable is the Toyota LandCruiser Dual Cab rental?
A: We strive to offer the most competitive rates in Melbourne. Please visit our website for detailed pricing information.
Q: Do you offer chauffeur services for the Toyota LandCruiser Dual Cab?
A: Yes, we do! You can enjoy a premium, chauffeur-driven experience at an unbeatable price.
Q: Can I book the Toyota LandCruiser Dual Cab online?
A: Yes, you can easily book the Toyota LandCruiser Dual Cab through our website.
BOOK ONLINE
Select your preferred vehicle and book online or contact us for any queries:
 https://www.melbournevanrentals.com.au/

 +61 450 747 874,  +61 466 643 521 ,+61 466 643 529

 info@melbournevanrentals.com.au
Answers to commonly asked questions can be found in our
FAQ section
Like our FB Page and get regular updates and offers: Facebook