Get Quote:
Toyota Yaris Silver 4-Door 2019 Model
---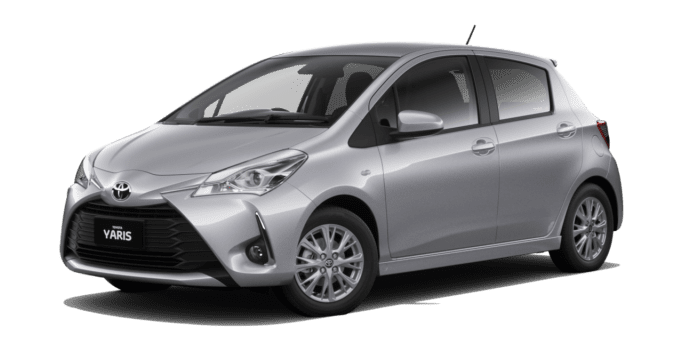 Toyota Yaris (Silver) Specifications & Rate
---
Specifications:
| | | |
| --- | --- | --- |
| Model | : | Toyota Yaris Silver 4-Door 2019 Model |
| Seating Capacity | : | 5 |
| Fuel Type | : | Petrol |
| Auto/Manual | : | Auto |
Yaris Car Rental Rates:
| | | |
| --- | --- | --- |
| Rate 1 | : | $50 per day including 10 % GST + 200 Kms/day allowance based on a daily rate. |
LONG-TERM RATE ALSO AVAILABLE - PLEASE ENQUIRE
Rent a Toyota Yaris in Melbourne – Convenient, Affordable, and Stylish
In the heart of the vibrant city of Melbourne, many find themselves in need of reliable transportation for various reasons. Whether you're on a business trip, taking a vacation, or just in need of a temporary ride, Melbourne Van Rentals has got you covered. We present you with an opportunity to rent a Toyota Yaris, a compact yet stylish vehicle that fits your needs perfectly.
Renting a Toyota Yaris in Melbourne is a practical choice for many. With its fuel-efficient engine, it's an economical option for those who value money as much as they value comfort and style. Plus, its compact size makes it perfect for navigating Melbourne's bustling city streets or even taking a trip out to the beautiful Victorian countryside.
When you choose to hire a Toyota Yaris, you're not only getting a vehicle; you're getting experience. This vehicle is compact yet spacious enough to accommodate your needs whether you're travelling alone or with companions. Additionally, it offers the latest in safety features, ensuring that your travel in and around Melbourne will be secure and worry-free.
You can **hire the Toyota Yaris for rent in Melbourne** through our straightforward online booking system at https://www.melbournevanrentals.com.au/. There, you will find more details about the vehicle, its features, and the rental terms. With a few easy steps, you can book your Toyota Yaris and start your journey in style and comfort.
The Yaris we offer is the 2019 silver 4-door model, a testament to Toyota's commitment to quality, reliability, and longevity. It's an ideal vehicle for those who value practicality without compromising on style.
At Melbourne Van Rentals, we are dedicated to providing you with top-notch service. Our friendly staff is always available to assist you and answer any queries you might have about your rental. We strive to make your rental experience smooth and satisfying because we believe in delivering not just a vehicle, but a service that complements your unique needs and preferences.
So, if you're searching for a reliable, stylish, and cost-effective vehicle, your search ends here. Rent a Toyota Yaris in Melbourne today and experience the Melbourne Van Rentals difference! We look forward to serving you.
BOOK ONLINE
Select your preferred vehicle and book online or contact us for any queries:
 https://www.melbournevanrentals.com.au/

 +61 450 747 874,  +61 466 643 521 ,+61 466 643 529

 info@melbournevanrentals.com.au
Answers to commonly asked questions can be found in our
FAQ section
Like our FB Page and get regular updates and offers: Facebook