Get Quote
Haval Jolion (2021)
---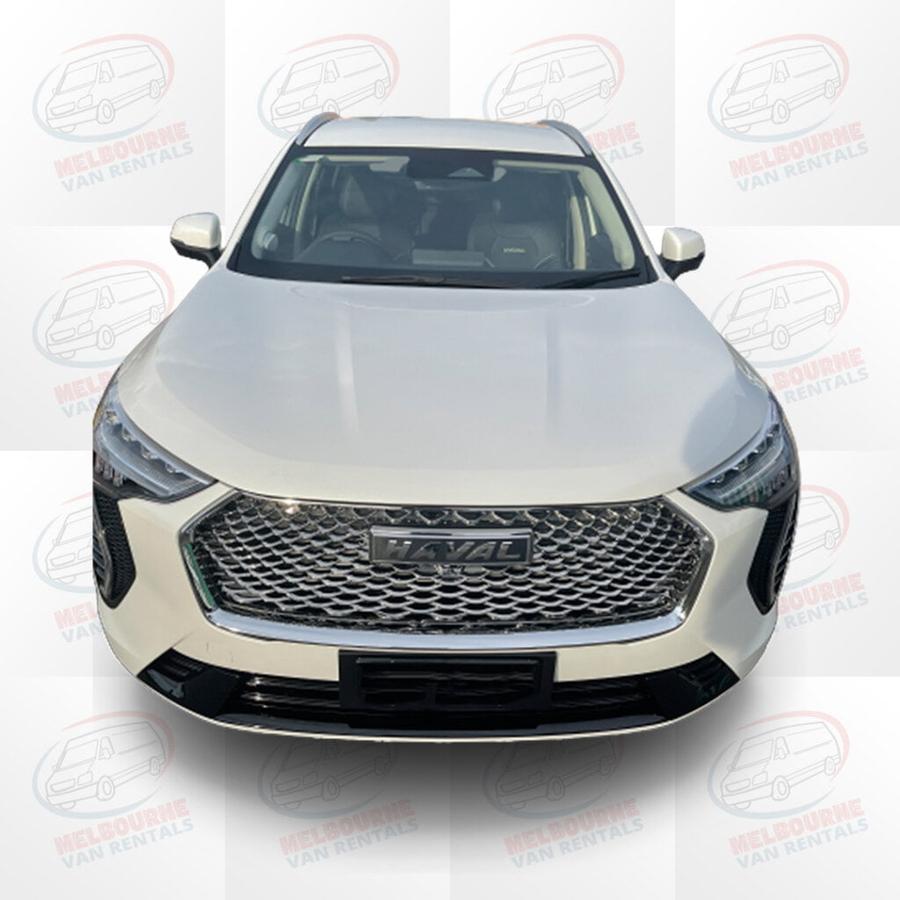 Haval Jolion (2021) Specification & Rate
---
Specifications:
| | | |
| --- | --- | --- |
| Model | : | Haval Jolion (2021) |
| Seating Capacity | : | 4 (Manually Adjustable Front Passenger Seat) |
| Fuel Type | : | Petrol |
| Auto/Manual | : | Auto |
Haval Jolion Standard Car Rental Rates:
| | | |
| --- | --- | --- |
| Rate 1 | : | $70 per day, including 10% GST + Free 200 Kms/day allowance based on a daily rate |
| Rate 2 | : | $360 per week, incl. 10% GST + Free 1000 Kms/week allowance based on a minimum 3 months contract |
Haval Jolion: Take the Kids on a Road Trip
Do you want to take your family on an exciting lengthy trip inside or outside of a city? We recommend that you rent a Haval Jolion minivan in this situation. This vehicle has been outfitted with convenient features to make long trips easier on families. This small, stylish, and sporty SUV was built with parents in mind. You don't have to buy the van to have a good time taking rides in it.
Melbourne Van Rental is the best place to rent a van at a reasonable price. If you need to rent a high-quality van in Melbourne without breaking the bank, turn to our reliable car rental service.
What makes us the best option?
Here at Melbourne Van Rentals, we pride ourselves on being Australia's premier van rental company. We have a large clientele because we provide reliable vans at affordable pricing. Years in the business have taught us how to best serve customers looking for van rentals. We help customers determine which van will serve their needs best.
Expertly familiar with the types of vehicles that are in high demand for both short and long-term rentals is our team of qualified professionals. They can assist with our customers' rental needs, simplifying the hiring procedure as a whole.
You can hire a van that has already passed all necessary inspections. In this way, when you rent a Haval Jolion (2021) from our fleet, you can rest assured that it will perform to the best of its abilities.
Reasons to put your faith in us
Totally Open Bargains
This van rental agreement doubles as a guarantee of complete openness and honesty. Only the agreed-upon costs will be deducted from your total. There are never any covert charges from us. You are therefore well apprised of the stipulations in advance.
Maximum Allowable Loss
You won't have to worry about breaking the bank to cover the van's damage excess deductible in the event of an accident. As compensation, you will just have to pay us the bare minimum.
A quick response time from the support staff
After you've hired our Haval Jolion [2021], if you have any questions or concerns, our staff is always here to help. If you need assistance, please send us an email or give us a call.
The 2021 Haval Jolion:
The Haval Jolion is an attractive beast that would be fun to drive around. It has a distinguishing appearance due to its front and back styling. In order to ride in comfort and style, you should get this vehicle. It has a turbocharged, punchy engine that will stick in your mind.
Some of Haval Jolion's unseen specs are as follows:
The bare minimum required
The van has all the basic amenities found in vehicles today. The infotainment system is state-of-the-art, featuring a 10.25-inch touchscreen, Apple CarPlay, Android Auto, and a six-speaker sound system.
In addition to its rearview camera, automatic wipers, parking sensors, and power-folding mirrors, cloth seats, keyless entry/start, and 17-inch alloy wheels, this van is well equipped.
Moreover, a leather-wrapped steering wheel, leatherette upholstery, driver-powered heated front seats, a digital instrument cluster, and dual-zone climate control are all included as standard equipment.
Superior security measures
The Haval Jolion 2021 Australia has a full complement of standard safety features and the latest in safety technology. All sides, including the front and the centre of the front, are equipped with airbags.
Here are some of the most important precautions that were taken by the designers and builders of the van:
Pedestrian and bicycle detection and automatic emergency braking
Keeping tabs on drivers' focus
Automatic course correction
Assisted lane-keeping
HD panoramic camera
Anti-blind-spot technology
Warning for oncoming traffic from the back
Identifying road signs for safety
Beautiful Decorations
Both the appearance and the inside of the Haval Jolion [2021] are well-designed. The sophisticated texture of imitation leather will be yours to enjoy. Try out the door pulls, tunnel shifter, and other trim to see how they feel. All of the seats in the van are heated, not just the driver's. There is a lot of space for storage, which adds to the van's already high degree of comfort, and there is also plenty of legroom in the back. The high ceiling also makes it possible for travellers to wear top hats.
Air vents are also a welcome addition, especially on hot summer days. The twin USB charger on the back is just one of several convenient built-in features.
Low-Cost Haval Jolion Rental Available
The rental fees for the Haval Jolion have been lowered to meet your financial requirements. This top-notch vehicle is readily available for your riding pleasure.
The dream of renting a Haval Jolion in the Melbourne area is now within reach, thanks to our competitively priced rentals. This van is at your disposal whenever you are ready to start your holiday.
Start here with us and reserve this van via an easier rental method.
BOOK ONLINE
Select your preferred vehicle and book online or contact us for any queries:
 https://www.melbournevanrentals.com.au/

 +61 450 747 874,  +61 466 643 521 ,+61 466 643 529

 info@melbournevanrentals.com.au
Answers to commonly asked questions can be found in our
FAQ section
Like our FB Page and get regular updates and offers: Facebook