Get Quote – Nissan Patrol
---
Nissan Patrol - Specifications & Rate Details
* This car is booked - Please contact us or check back in few days.
Model
:
Nissan Patrol WAG 5.6 PET Auto TI
Seating Capacity
:
7 Seater
Colour
:
Champagne Quartz
Auto/Manual
:
AUTO
RATES
Rate
:
$220 per day incl 10 % GST + 100 Kms/day allowance based on a daily rate
Note: Extra km charge $0.55 cents incl GST per Km. Accident Excess is $2500 for age over 25 yrs old Australian license, Excess is $3200 for international License/License Holder Over 25 yrs old. Charges will be different for interstate driving trips. $3000 refundable bond required if you are over 25 with full unrestricted Australian Licence. Please call us for more details.
Hire Nissan Patrol Melbourne – Most Powerful, Tough, Capable and Sleek Car
The Patrol is both elegant and capable, with a sleek design and a variety of Nissan Intelligent Mobility safety systems. With a 5.6L V8 engine and off-road monitoring systems, you're prepared to tackle any terrain.
MOST POWERFUL IN ITS CLASS
The Nissan Patrol's 5.6L V8 engine allows you to go where others fear to tread. Even the most challenging terrain can be managed with its 298kW of power and remarkable 560Nm of torque.
MORE ACTION, LESS DISTRACTION
The Patrol is loaded with technology and safety measures. From the Advanced Driver-Assistance Systems to the array of Nissan Intelligent Mobility technologies, you can be confident that you are in capable hands.
TOUGH, CAPABLE & SLEEK
The Patrol boasts a unique athletic front end with 52 LEDs in the front headlamps, giving it a rugged yet elegant design. This is accentuated by the boomerang-shaped LED taillights, huge rear chrome nameplate, and 18″ alloy wheels, ensuring it stands out on the road.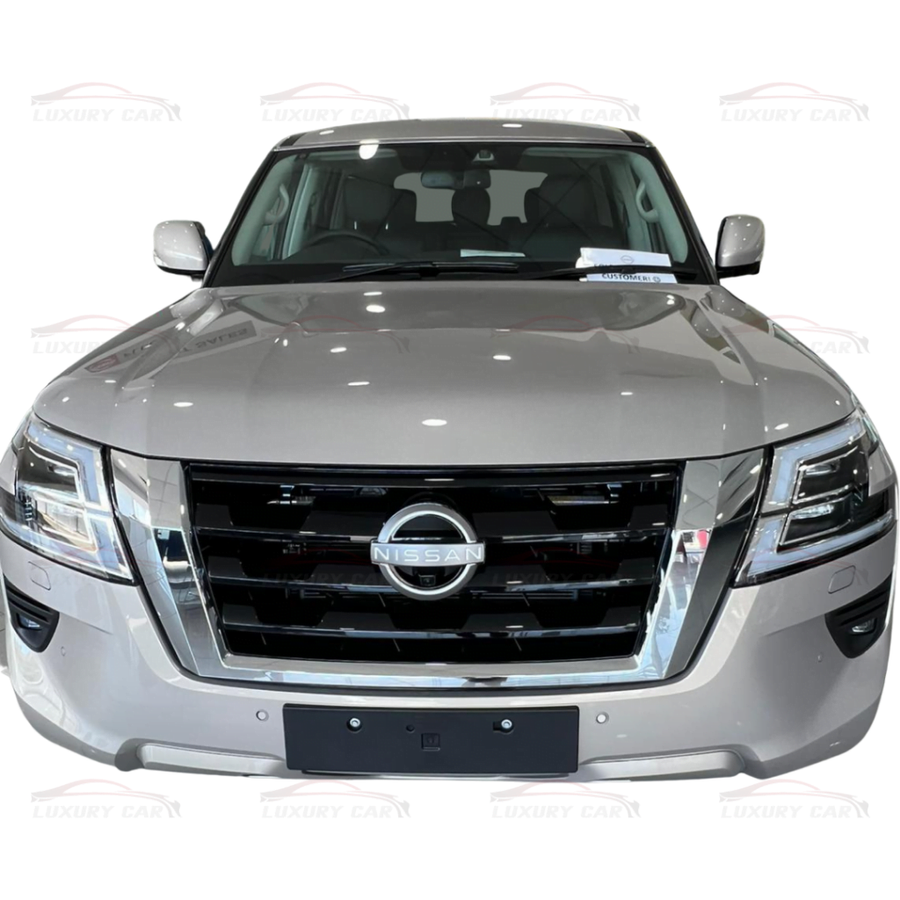 The Patrol Ti front grille has been redesigned to give the car a sharper aesthetic that complements its size.
It has an engine power of 298kW and a remarkable torque of 560Nm, as well as an outside V8 badge, so it doesn't go unnoticed on the road.
Stylish and one-of-a-kind 18″ alloy wheels to improve the look and capability of your Patrol.
To improve off-road capability, an electronic rear diff lock, Hill Descent Control (HDC) with an on/off button, Hill Start Assist (HSA), and an off-road monitor are included.
Light up the road ahead of you. With integrated front and rear headlights that include 52 LEDs in the front, LED fog lights, and a total of 44 LEDs in the back.
Thirteen strategically placed speakers produce a rich sound that enhances your listening experience.
An 8″ colour touch-screen with satellite navigation puts information at your fingertips. Nissan's sophisticated Around-View Monitor, among other things.
The Patrol accelerates faster than you might think, and the overall driving experience is much quicker than you may imagine. It accelerates to freeway speeds with almost comical ease, thanks to the creamy nature of the V8's power generation. It's quiet and elegant – you know there is a V8 under the massive bonnet, but it doesn't make the usual rumble that you might be accustomed to. Find one on the net with an exhaust on it, and you might be considering fitting exactly the same thing to your Patrol. It sounds tough as nails.
Everything about the Patrol is effortless on the road. The ride is like a magic carpet, the engine and transmission are perfectly matched, and the steering is properly weighted. Indeed, the Patrol's physical size is quickly forgotten, such is the ease with which it drives around in luxury.
If the goal is to purchase the largest, most capable SUV for all-terrain and family use, the Nissan Patrol Ti-L is the best option to go with. The exterior dimensions may appear intimidating, but they were designed to provide the occupants with as much comfort as possible while maintaining off-road capability.
BOOK ONLINE
Select your preferred vehicle and book online or contact us for any queries:
 https://www.melbournevanrentals.com.au/

 +61 450 747 874,  +61 466 643 521 ,+61 466 643 529

 [email protected]
Answers to commonly asked questions can be found in our
FAQ section
Like our FB Page and get regular updates and offers: Facebook