Get Quote – Ford Raptor 4×4
---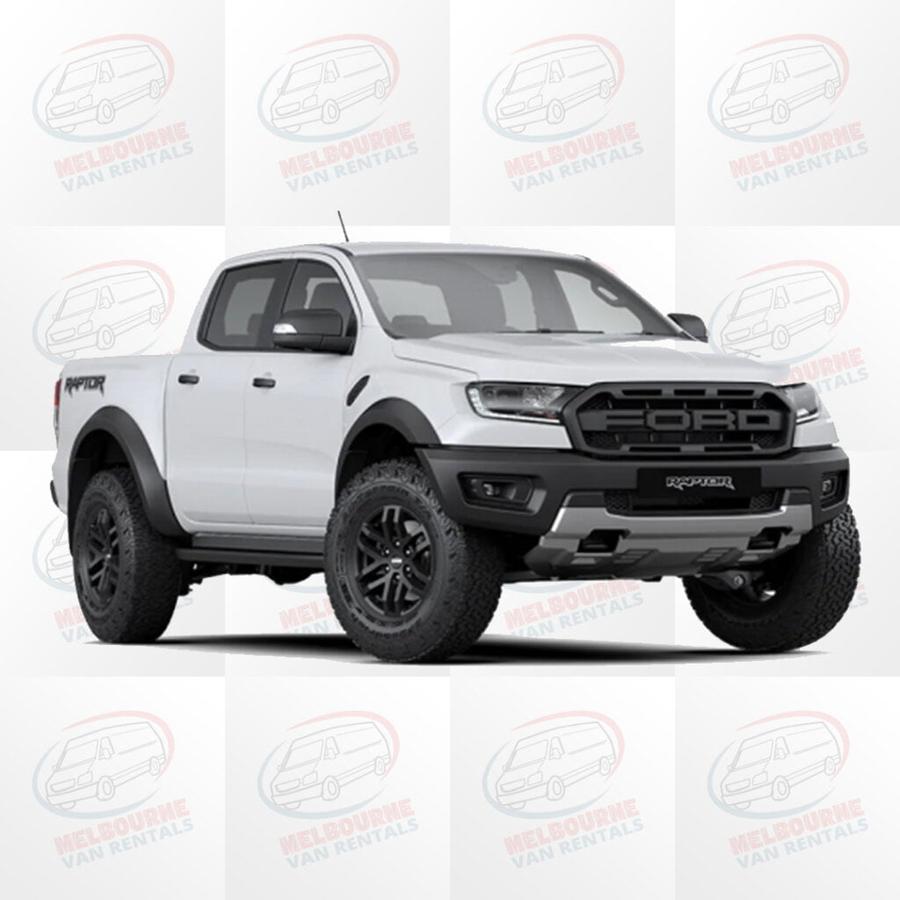 Ford Raptor 4×4 Specification & Rate
---
Specifications:
| | | |
| --- | --- | --- |
| Model | : | Brand New Ford Raptor 4×4 |
| Seating Capacity | : | 4 Seater |
| Fuel Type | : | Petrol |
| Auto/Manual | : | Automatic |
Ford Raptor Rental Rates:
| | | |
| --- | --- | --- |
| Rate 1 | : | $250 per day, incl 10% GST + Free 200 Kms/day allowance based on a daily rate |
| Rate 2 | : | $660 per week incl 10% GST + Free 1000 Kms/week allowance based on a minimum 3 months contract |
Ford RAPTOR 4X4 Hire In Melbourne – Rugged. Reliable. Ready for Action
Welcome to Melbourne Van Rentals, your local solution for Ford RAPTOR 4X4 hire in Melbourne. Our Ford Raptors are tough, powerful, and perfect for any road trip or adventure you have planned in and around the Melbourne suburbs.
Ford RAPTOR 4X4 – The Ultimate Off-Road Partner
There's a reason why the Ford RAPTOR 4X4 is a popular choice amongst our customers. Its aggressive stance, robust engine, and supreme off-road abilities make it the perfect partner for navigating Melbourne's diverse terrains.
Affordable Ford RAPTOR 4X4 For Rent
At Melbourne Van Rentals, we believe in providing our customers with top-quality service at the cheapest rental rates in Melbourne. Whether you need the Ford Raptor 4X4 for a day, a week, or even long-term, we have flexible and affordable rental options that will suit your budget.
Chauffeured Service – Relax and Enjoy the Ride
For those special occasions or when you just want to sit back, relax, and enjoy the journey, we offer a premium chauffeured service. Our friendly and professional drivers are well-acquainted with the Melbourne suburbs, ensuring you reach your destination safely and on time.
Long-Term Rental Options – For Extended Adventures
We understand that sometimes, a short-term rental just won't cut it. That's why we offer long-term rental options for our Ford RAPTOR 4X4. Perfect for businesses or individuals needing a reliable vehicle for an extended period.
 Ford Raptor 4×4 – Dream Pick-Up Van Within Your Easy Reach
Are you searching for a pick-up van that wins your heart and mind instantly at first glance? Well, then Ford Raptor 4×4 will fit your requirements. It is a van made for an unforgettable on-road and off-road driving experience. This is your van if you love adventure sports and dream of conquering those challenging rugged terrains. While maneuvering the vehicle to tackle the most difficult terrains, you are still comfortably seated and controlling everything.
And do not worry if your budget is too small to buy this expensive Ford Ranger Raptor. You can still access the van to enjoy the ride with your friends or family. This crew cab pickup van is yours for the day, as you can hire it with us immediately at easy rental rates. We at Melbourn Van Rental will let you have this magnificent vehicle for as many days as you want without burdening your budget. You can instantly hire a van with us at competitive and low rental rates.
Why choose us?
When you are in Melbourne and searching for a Ford raptor for rent near me, think of our van rental services. We provide the best van in top condition but take care of your rental and other related requirements. You can trust us for the best rental deals along with multiple services that include :
Transparent rental deals
We put everything well written on paper, so everything is clear between you and us. So, be assured of fully transparent rental deals from our end. You will not make additional payments to us outside the agreed rental rates. This means no hidden charges to pay when hiring the Ford Raptor Melbourne.
Low compensation
If this strongly built 4×4 Ford Raptor gets damaged, do not worry about the compensation amount. You will pay us only a minimum damage excess amount that is never a burden on your budget.
Trustworthy customer service
After you hire our Ford Ranger Raptor 4×4, you will still be availing of our customer service whenever required. If you need any help regarding the vehicle, our professionals will come up with the solution immediately so that you carry on with the riding.
About Ford Raptor 4×4
Ford Raptor 4×4 is a time-tested pick-up van specially engineered for off-road performance. This bi-turbo diesel van works efficiently with paddle gear shifters and a 10-speed automatic gearbox.
The van comes equipped with all the modern terrain management systems to meet the most demanding challenges when required. It is a double cab pick-up with a full-size cab. You access the Ford Raptor 4×4 quickly from 4 doors, and it has extended legroom for extra comfort. The second-row seating has additional space to keep your friends and family comfortable while the vehicle is on or off-road.
Ranger Raptor may look like a small pick-up van in terms of load space, but its strength and performance make it a desirable van.
Some of the other features of the Raptor 4wd include a twin-turbocharged V6 288 PS EcoBoost petrol engine and an extreme "Baja" driving mode. The mode helps quickly adapt the vehicle settings to make it adaptable to the high-speed off-road requirements.
The van also has sublime suspension utilizing Fox shock absorbers. With this unique technology, the van's suspension system can quickly absorb any challenge that terrain can throw at it.
Instant Booking
We do not keep our clients on hold for a long time. Instead, we process their hiring application immediately so that they can drive the van away at that very moment. All you do is fill out our online application or visit us with your legal papers. That is all. We will care for the rest of the van rental process much more manageable. Our repeat clients will not take even that much time.
Hire the van at the lowest possible rentals
All such high-tech features make this Ford ranger raptor price Melbourne an expensive vehicle for most people to buy. But you can enjoy riding this van due to our easy rental rates.
We are the Australian customers' trusted source of Ford ranger raptor hire. Our clients visit us more and offer not just the great service we provide but also the cheapest rental rates. Since we operate primarily online, our overhead expenses are manageable. So, we share our profits by lowering rental rates for our valued clients who need the van for short or long-term riding experience.
Start your queries for hiring Ford Raptor 4×4 with us to get the details and drive away the
van immediately.
Frequently Asked Questions
1. Can I rent the Ford RAPTOR 4X4 for more than a week?
Absolutely! We offer flexible short-term and long-term rental options to suit your needs.
2. What areas do you service?
We primarily service all Melbourne suburbs.
3. Can I ask for a chauffeured service with my Ford RAPTOR 4X4 rental?
Yes, we do offer chauffeured service. Please request this service at the time of booking.
4. How do you ensure the quality and safety of the Ford RAPTOR 4X4?
All our vehicles undergo rigorous checks and regular maintenance to ensure they are in top condition.
5. How do I book the Ford RAPTOR 4X4 for rent?
Booking is simple. Just visit our website at www.melbournevanrentals.com.au and follow the prompts.
Remember, when you're looking for a Ford RAPTOR 4X4 for rent in Melbourne, look no further than Melbourne Van Rentals. We're here to get you on the road and on your way to your next adventure! Book with us today.
BOOK ONLINE
Select your preferred vehicle and book online or contact us for any queries:
 https://www.melbournevanrentals.com.au/

 +61 450 747 874,  +61 466 643 521 ,+61 466 643 529

 info@melbournevanrentals.com.au
Answers to commonly asked questions can be found in our
FAQ section
Like our FB Page and get regular updates and offers: Facebook